2023 Annual Mass
The Annual Mass and Meeting of the Confraternity of the Blessed Sacrament will be held at St. Paul's Church by-the-Lake, Chicago, on Thursday, June 8, the Feast of Corpus Christi, at a time to be determined. The Rt. Rev'd Daniel H. Martins, XI Bishop of Springfield and Superior-General of the Confraternity, will celebrate and preach.
Thanks to Fr. Trey Garland, eighth rector of the parish, for his gracious welcome of the Confraternity.
1 Remigius of Rheims for a deeper connection between the truth of the incarnation and of all that is human 2 SEVENTEENTH SUNDAYAFTER PENTECOST: that we might be forgiven those things of which our conscience is afraid 3 Theresa of Lisieux the terminally ill and those...
About the confraternity
The Confraternity of the Blessed Sacrament was founded in 1862 as part of the Catholic Revival in the Church of England to honor the Presence of Our Lord in the Blessed Sacrament and to promote appropriate preparation and devotion to the Holy Eucharist.
The Intercession Paper
The Intercession Paper is the bi-annual publication of the Confraternity, containing Confraternity devotions and daily intercessions.
Contact Us
For general inquiries about the Confraternity, please complete the form.
The Confraternity of the Blessed Sacrament
224 East 34th Street
Savannah, Georgia 31401-8104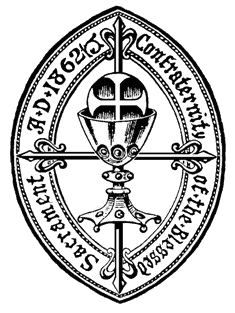 officers
Superior-general
The Rt. Rev. Daniel Martins
Bishop of Springfield (retired)
vice superior-general
The Rev. John Heschle
Rector, St. Paul's by the Lake, Chicago, IL
secretary-general
The Very Reverend William Willoughby, III OStJ
Dean of Georgia
Treasuer-General
The Very Rev. Richard Simpson, tssf
Rector, St. Mark's, Islip, NY