2023 Annual Mass
The Annual Mass and Meeting of the Confraternity of the Blessed Sacrament was held at St. Paul's Church by-the-Lake, Chicago, on Thursday, June 8, the Feast of Corpus Christi. The Rt. Rev'd Daniel H. Martins, XI Bishop of Springfield and Superior-General of the Confraternity, was the celebrant and preacher.
Thanks to Fr. Trey Garland, eighth rector of the parish, for his gracious welcome of the Confraternity.
About the confraternity
The Confraternity of the Blessed Sacrament was founded in 1862 as part of the Catholic Revival in the Church of England to honor the Presence of Our Lord in the Blessed Sacrament and to promote appropriate preparation and devotion to the Holy Eucharist.
The Intercession Paper
The Intercession Paper is the bi-annual publication of the Confraternity, containing Confraternity devotions and daily intercessions.
Contact Us
For general inquiries about the Confraternity, please complete the form.
The Confraternity of the Blessed Sacrament
519 James St.
Elkhart, IN 46516-4531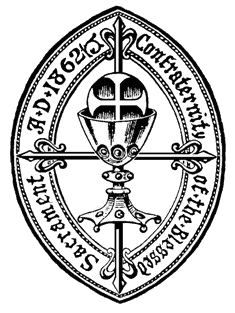 officers
Superior-general
The Rt. Rev. Daniel Martins
Bishop of Springfield (retired)
vice superior-general
The Rev. John Heschle
secretary-general
The Reverend Robert Armidon
Treasurer-General
The Very Rev. William Willoughby